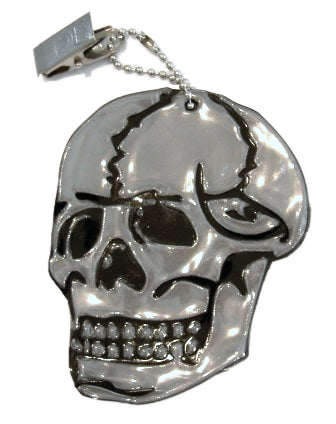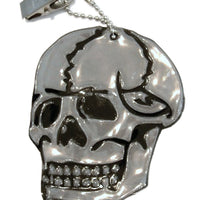 Soft Cool Skull Reflector
Cool skull soft reflector with metal ball chain and metal clip attachment.
Reflectors can be worn dangling from your backpack, pocket, purse, stroller or attached to your dog's collar. Unlike reflective tape, which isn't transferable and loses reflectivity when washed, slap wraps and dangling reflectors can be easily moved to complement your daily activities.
Width 7cm, Height 9cm (2 3/4 by 3 1/2 inches).
Pedestrian Reflectors
REFLECTIVE ON BOTH SIDES
Quality reflectors work in the way that incoming light is broken three times inside the prisms of the reflector before the light is then sent back to the eyes of the driver.  A proper reflector must:
- Have enough reflecting surface area which is a minimum of 15cm2
- Have a minimum reflectivity of 400 C.I.L
- In the case of dangling reflectors, be reflective on both sides
All C-Me pedestrian reflectors exceed these standards and are certified by European safety standards.
EUROPEAN CE-CERTIFIED
As proof of the approval, the CE letters are engraved on our hard prism reflectors as well as printed on our standard packaging, this includes the slap wraps.  Scientific testing takes place at third-party authorized certification bodies on all C-ME pedestrian reflectors. Competing "swag" reflectors do not meet any of these standards.
Wholesale
Custom Orders
Custom imprinted promotional reflectors make an impactful and fun statement about your company or organization. Need a custom shape? No problem! With soft reflective film, we can turn your logo, mascot, or message into a high-quality pedestrian reflector.
Customize Now
STAY BRIGHT, BE SEEN
REFLECTORS SAVE LIVES
More than 2,000 people die every year in avoidable traffic accidents. Keep your kids, pets, and family safe with high-quality reflectors that improve visibility in low light conditions. 
LEARN MORE